Balsamic Chicken
Our signature marinated rotisserie chicken, garden fresh lettuce, roma tomatoes, english cucumbers and sweet red onions, topped with our house balsamic vinaigrette, in our pita bread
BLT Club
Turkey, crisp bacon, roma tomatoes and garden fresh lettuce topped with bacon mayo, on our wheatberry bread
Spicy Chicken
Tender grilled chicken, roma tomatoes, fresh cabbage with spicy chipotle mayo, in our pita bread
Countryside Caprese (Vegetarian)
Fresh mozzarella cheese, roma tomatoes, basil aioli and house balsamic vinaigrette, on our ciabatta bread
Falafel (Vegetarian)
Chickpea fritters with roma tomatoes, onion, pickle, radish and herb mix, topped with house tahini sauce, in our pita bread
Massad Salad
Our signature marinated rotisserie chicken, garden fresh lettuce, roma tomatoes, cucumbers, sweet red onions, peppers and our tangy lemon and garlic vinaigrette
Taboulee Salad (Vegetarian)
Medley of parsley, roma tomatoes, sweet onions, cracked wheat, tossed with lemon and extra virgin olive oil
Caesar Salad (Vegetarian)
Garden romaine lettuce, sweet red onions, seasoned croutons, grated parmesan cheese and our creamy caesar dressing
Mixed Green Salad
Garden fresh lettuce, roma tomatoes, cucumbers, sweet red onions, peppers and our choice of dressing
Chicken Schwarma
Our signature marinated rotisserie chicken, fresh garden lettuce, roma tomatoes, pickles and our signature sauce, in our pita bread
Mini Schwarma
Not Too Hungry – Ask us for a "Mini Schwarma"
Mini Chicken Schwarma
Our signature marinated rotisserie chicken, fresh shredded lettuce, roma tomatoes, pickles and our signature sauceOur signature marinated rotisserie chicken, fresh shredded lettuce, roma tomatoes, pickles and our signature sauce
Chicken Strips with Fries
Tender fried chicken strips marinated in special sesonings with choice of dipping sauce
Grilled Cheese
Provolone cheese melted between two pieces of wheatberry bread
Combos
Includes a soda or juice
Regular
Gourmet Chips
Pasta Salad
French Fries
Falafel with Tahini 
Daily Soup (Seasonal)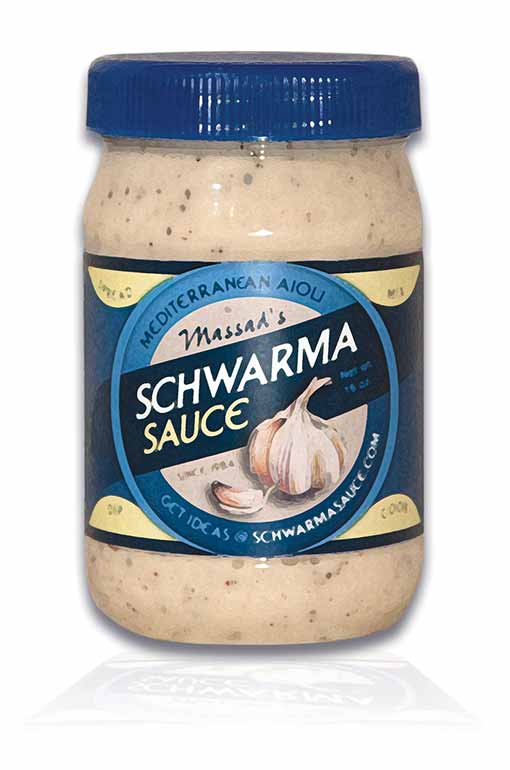 The Schwarma is the Massad family's signature chicken sandwich. One of the key ingredients in the Schwarma sandwich is its distinct sauce. Since most customers' visit specifically for the Schwarma, the family is bottling the sauce.
Robust Mediterranean flavors go great with chicken, fish, steak, pork chops, mashed potatoes, fajitas, pasta and so much more. The Massad family is delighted that customers can now bring a little piece of the family to their home.
Contact Us
1850 Adams St # 618, Mankato, MN 56001
Located in the River Hills Mall, Mankato
Take Our Survey
Don't be shy. Let us know what you think!
MON – Thurs
11:00am – 7:00pm

Fri-Sat
10:00pm – 8:00pm